Mercedes C6 diagnostic is an advanced diagnostic support device for Mercedes models. How to connect this device with software to diagnose vehicle module? Please see the article below for detailed connection steps.
Mercedes C6 Diagnostic
Overview 
The Mercedes C6 diagnostic is the latest and most advanced diagnostic equipment for Mercedes models on the market. MB Star C6 is an upgraded version from 2 versions of Mercedes Benz Star C4 and C5 before that. This is definitely a perfect diagnostic version and the optimal solution for garages, and service shops specializing in repairing Mercedes Benz models on the market.
Features Mercedes C6 Diagnostic: 
Supports Doip (Diagnostics over Internet Protocol) connection protocol

Compact design: Mercedes-Benz specialized diagnostic equipment with the new version has a compact size, rugged, suitable for environmental work at service and repair workshops
Use on the latest diagnostic software provided with ASCOM
Support diagnostics for new car models: With the latest version of  XENTRY DIAGNOSTICS OPEN SHELL

software on the market today from now on. Star C6 supports the diagnosis of many new car models such as Series A, B, CLC, C, E, S, CLK, CLS, CL, SLK, SLS, M, G, E, GL, GLK,…

Supports diagnostics Small truck diagnostics: In addition to passenger cars, the Mer-C6 specialized diagnostic machine supports small trucks such as MB 100 (631), T1, Sprinter III, Citan, Vito (639), Vito (638), V (638), Viano (639), T2, Vario, Vaneo (414),…
Support for heavy truck diagnostics: The special thing from the Mercedes-Benz Star C6 diagnostic device supports the diagnosis diagnose heavy trucks, specialized vehicles such as Actros 963/4, Actros 2, 3, Atego III, Atego II, Axor II, Eonic, Zetros, Actros, Atego Light, Atego Heavey, HPN M96, Atron, HPN M2000, SKL, FSK,…
How To Connect Mercedes SD C6 Original?
In the section below, we will help you connect the device easily through the following steps:
Step 1: Connect OBD and cable (Xentry diagnostics vci / C6 )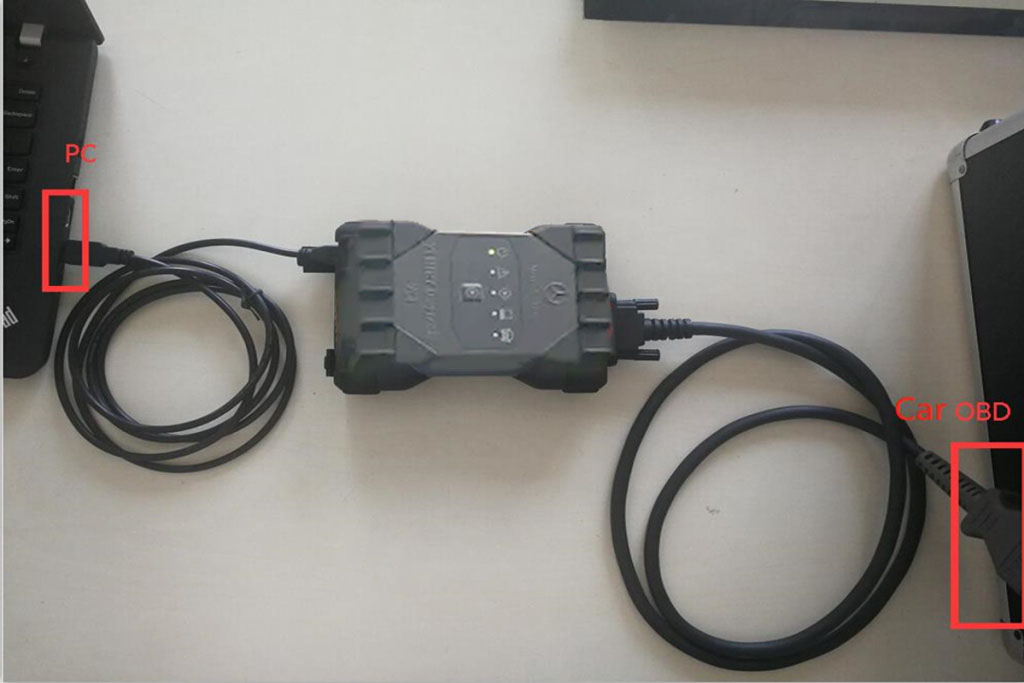 Step 2: Open VCI manager
Step3: Check pair Xentry diagnosis VCI
Step 4: Connect WLAN Configuration on WLAN channel
Step 5: Choose WLAN channels that should not be used
Applying changes…
Step 7: Open Xentry, you can see C6 VCI icon with connected
Summary
Connecting and using Mercedes c6 diagnostic is extremely simple. With just a few taps, you can link the Mercedes software to your vehicle and quickly test all of your vehicle's systems.
Products are warranted according to the policy: 1 for 1 exchange within 6 months, remote support for 3 consecutive years. You can leave comments or contact me via WhatsApp:+1-848-294-6626. 
Above are detailed instructions for connecting Mercedes c6 diagnostic VCI. If you encounter any difficulties, you can contact us via website or Whatsapp for support.
Eurocartool always has a technical team with many years of experience, we are always ready to listen and offer repair methods to help you save costs and effort.
If you want to know more about coding and programming services, you can book remote support services at Eurocartool. We are always ready to support 24/7.